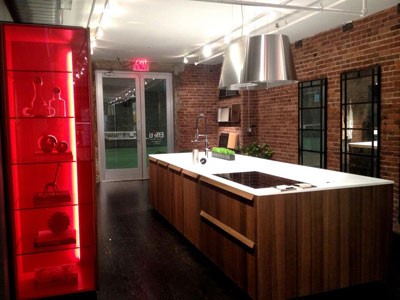 The "BIG APPLE" celebrates Effeti kitchens
Effeti open the first showroom in the USA.
The New York Times celebrates the Italian manufacturer of kitchens, Effeti Industries S.r.l., presenting new models E1 System: the BK1 and BK2.
WHERE DID THE KITCHEN GO?
"Effeti, the 40-year-old Florentine manufacturer of high-end modern kitchens, is showcasing two of its newest designs: the BK1 and BK2, by the brothers Gabriele and Oscar Buratti. The BK1 kitchen is for those who want everything hidden: it can be configured so that doors conceal the ovens, the refrigerator and even a fireplace. The BK2 is made of matte-lacquered scraped oak, with doors that slide open to reveal colorful lacquered interior cabinets." (New York Times)
"We have about 10 door-front styles, which are clean, modern and not fussy," said Shelly McClure, a president of Effeti USA.
"Every drawer and cabinet interior can be completely customized with dividers, and in a New York City kitchen, I think those details make a huge difference."
The showroom is at 645 West 27th Street (11th Avenue). Information: (212) 502-8916 or effetiusa.com.
New York Times, May 17, 2013.